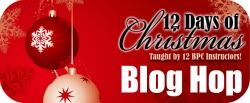 Welcome to the 12 Days of Christmas Blog Hop!  The 12 Days is a new class from Big Picture and I'm thrilled to be one of the teachers this year.  This is an awesome class and I'm excited to share a little more info with you here.

How it works: For the 12 days leading up to Christmas, you will receive an email from a BPC teacher with a photo prompt and a list of supplies to gather. Preparing specific holiday pictures and products as Christmas approaches will help you focus on the present moments and the joyful anticipation in a more thoughtful way—without feeling any pressure to scrapbook right away! Then, starting on December 25th, you'll get to "open" a new handout each day, designed to guide and inspire you in pulling together pictures and products to complete a dozen different layouts.

At the end of this workshop you'll have created 12 special memories with your family AND you'll have 12 finished pages. Rather than rushing through the holidays this year, give yourself the gift of happy memories documented in a delightfully doable way!

This workshop includes:
12 daily emails from 12 different BPC teachers for the 12 days leading up to Christmas
Reminder emails when the classroom is updated with new materials
12 colorful instructional handouts with step-by-step instructions for creating 12 layouts
Video messages from each teacher available as streaming videos and transcripts
Message board to share your thoughts with your classmates
Private posting gallery to share your work and view the work of your classmates
Here's a sneak peek at the layout I created for the class...


Click here to register and please let me know if you have any questions about the class.  And now I'm going to send you on your way to the next stop on the 12 Days of Christmas Blog Hop - Elizabeth Dillow!  Enjoy!